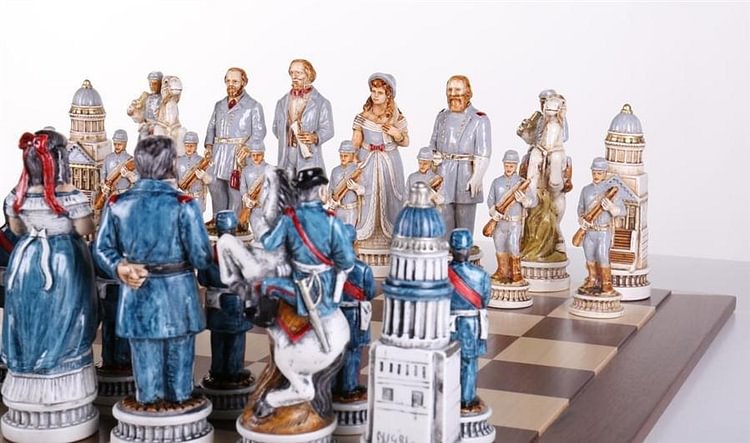 This extraordinary Civil War Chess Set with men up to 6" tall combines large, detailed pieces that are hand painted in Italy with matching hardwood chess board and storage boxes, made in the U.S. Fine oxo-teak pieces are heavy, stone-like to the touch and incredibly detailed by Italian artisans in the beautiful Florence region of Tuscany Italy.
The Pennsylvania-made hardwood chessboard in walnut and maple is precision handcrafted in the USA, finished to high standards by a very experienced wood worker. Two hardwood boxes match the chessboards and fit the chessmen well to keep them protected and dust free when needed. Interesting to note, the board and boxes are made not far from where the battle of Gettysburg actually took place.

Specifications:
King height: 6"
Base size: 1 11/16"
King weight: 6 oz.
Set weight: 8 lbs. 8 oz.
Walnut and Maple Board Size: 21"
Walnut and Maple Board Squares: 2 1/4"
2 Walnut and Maple Matching Boxes
NOTE: Current production run of pieces are not felted.  We recommend stick-on Single Felt Circles

 

in sizes 1 1/2" and 1 1/4" to protect the playing surface.