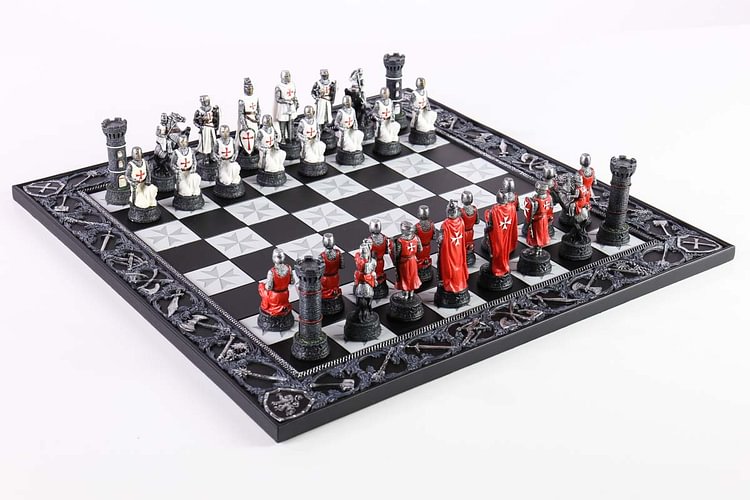 The battles of the Crusades come to life with this fantastic combo of Crusades Chess pieces on a Templar themed board. Defend your king from opposition with your knights and castles. Use your bishops to invade your opponents territory.
These red and white beautifully hand painted and durable resin pieces will keep young and old entertained for years to come.

The board features interesting detail.  The base relief sculpture border depict battle weaponry used in medieval times—broad swords, battle axes, crossbows, spiked maces, and more.     The four corners, bear the Templar cross and Rampant Lion.  The earliest recorded use of the rampant Lion as a royal emblem was by Alexander II in 1222 (Scotland) and it has been used as a heraldic symbol in arms and banners by 
the Scottish monarchs, but first 
used this way by David I at the Battle of the Standard in 1138.
Pieces Specifications:
King height: 3 1/4"
King base: 1"
King weight: 1.2 oz.
Set weight: 28.4 oz.
Only one queen per side
Hand painted resin, 32 pieces
Board Specifications:
Square size: 1 3/4"
Board size: 17 3/4"