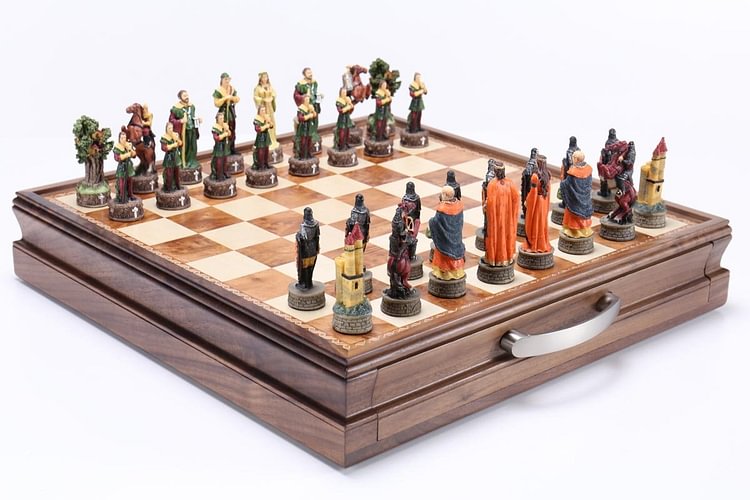 This adventurous combination of Robin Hood Chess Men with Walnut Wood Storage Chest by Chess House is an great way to play a game of chess. Fill your need to be the hero by playing as Robin Hood and Little John or embrace your dark side as the Sheriff of Nottingham and Prince John. Fight for good or fight for evil and have fun the whole time!
Measuring almost 19", this storage chest offers a full size board (2" square) that any club player can appreciate and makes an impressive display with the beautiful and detailed poly-resin pieces, each hand-painted using long lasting, lead-free paint. 
The set is complete with chess pieces, checkers, and felted storage drawer to keep it all together and is great for casual players taking up the game for the first time or revisiting after many years.
To some, the 19" might be larger than expected, so we encourage you to first consider the space required.  
Specifications:
Board size 18.5"
Square size 2"
King height: 3 1/4"
King base: 1"
King weight: 1.2 oz.
Set weight: 25.6 oz.
Complete set of 32 pieces.
24 wood checkers
Sturdy, solid wood frame and real wooden veneer surface