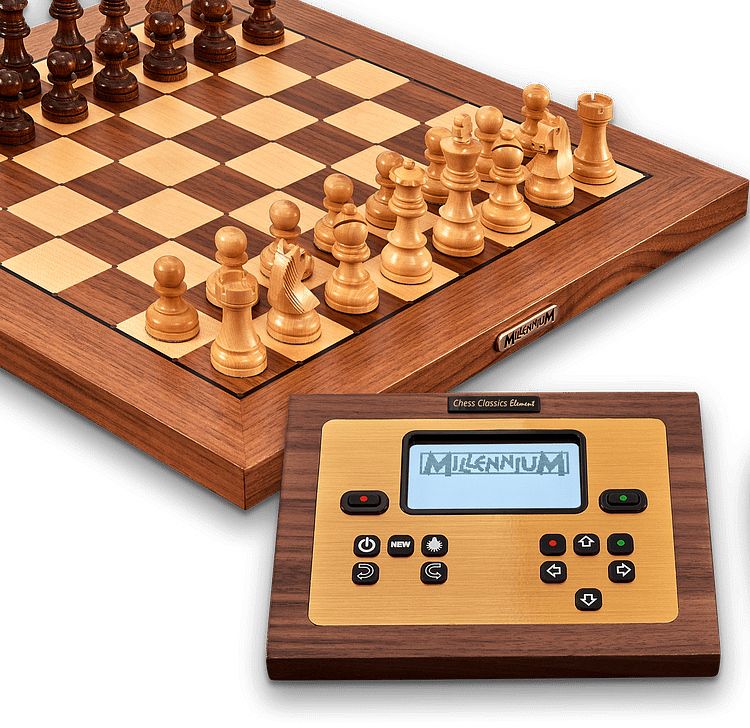 Launched in 2022, the Chess Classics Exclusive combines Millennium's modular 16" Exclusive Board and pieces with their best chess computer ever, the Chess Classics Element. 
The MILLENNIUM Exclusive sensor board with automatic piece recognition is matched to the wooden chess Element computer module equipped with two of the most famous chess engines ever: The King and Chess Genius. This combination provides strength, beauty and portability without compromise; a perfect tool for all chess enthusiasts from serious amateurs to dedicated grandmasters.
The Exclusive's smooth, handmade wooden sensor board with full piece recognition makes moves intuitive, natural and a pleasure to use. The 81 LEDs allow full concentration on your physical game, not a screen or chess clock. The exceptional design is capped off with high speed piece scan recognition and reliability.
Play Online with the Optional Add-on ChessLink Module: Add the ChessLink module and pair with free apps to play online on popular chess server platforms like Lichess and Chess.com. For professional tournaments, Chess Link allows Millennium to integrate seamlessly with the Tornelo.com platform.  Play directly on the board against millions of people around the world! Your opponent's moves are displayed with the LEDs on the board and Element module screen. 
Premium Computer Features: "The King" includes a Comfort mode with self-adjusting playing strength levels, as well as the Elo levels to help you assess your own playing strength. By switching to the expert mode, you can compete against an "electronic chess grandmaster" with up to 2500 ELO and even personalize the way your opponent plays. 
In the latest version, "ChessGenius" can not only abandon its game in a hopeless situation, but also offer a draw. The engine is rightly considered an absolute classic of computer chess and offers, among other things, 2 opening libraries as well as 7 additional special books, with which you can train, for example, popular openings such as the Queen's Gambit.
Key Features

Input of the chess moves: Handmade wooden sensor board with fully automatic figure recognition

Display of the chess moves: 81 single field LEDs (4 per square)
Dimensions chessboard: 40 cm (15.75 in) x 40 cm x 2 cm (.78 in) (King Height: 7,4 cm or 3 in)
'Future Proofing' Updates: Software updates via USB interface; Hardware module completely exchangeable.  
Options for USB interface: Save and load games (PNG format); optional download of opening libraries, firmware updates or engines
Modular Design and Optional Add-ons to Purchase For Expanded Functionality: 
ChessLink connects to apps and other compatible devices via Bluetooth
Chess Volt Battery Pack for portable use
Supreme55 board compatible with Element Module
Power Supply: Mains adapter (with plugs for EU, UK, US, AUS) included
Playing strength: from beginner to over 2500 ELO (according to SSDF list)
Safe Features: Shared 9 memory slots to save games.  Allows play with one program and analysis with the other. 
Other Features: Chess960, Adaptive Play, Elo Levels and 2 engine classics
COMPUTER TECHNICAL DETAILS
Hardware
Lighted display with multilevel dimming, can be switched off
Processor: ARM Cortex M7, 300 MHz processor
CPU: clock frequency variably adjustable from 10 - 300 MHz
Connection board-computer: standard mini-Din-cable, 4-pin

Software
Program: The King / ChessGenius
Author: Johan de Koning / Richard Lang
Device languages: 7 (DE / GB / FR / NL / ES / IT / RU)
Menu system: Text-based / Graphic, all device languages
Updateable Software: Yes, via USB
Power supply
Batteries required: No
Power supply connection: Yes, 100 - 240V 50/60 Hz Input - 9V 1A Output
Power supply included: Yes
Battery Pack: Optional M825 ChessVolt Module
Manuals: