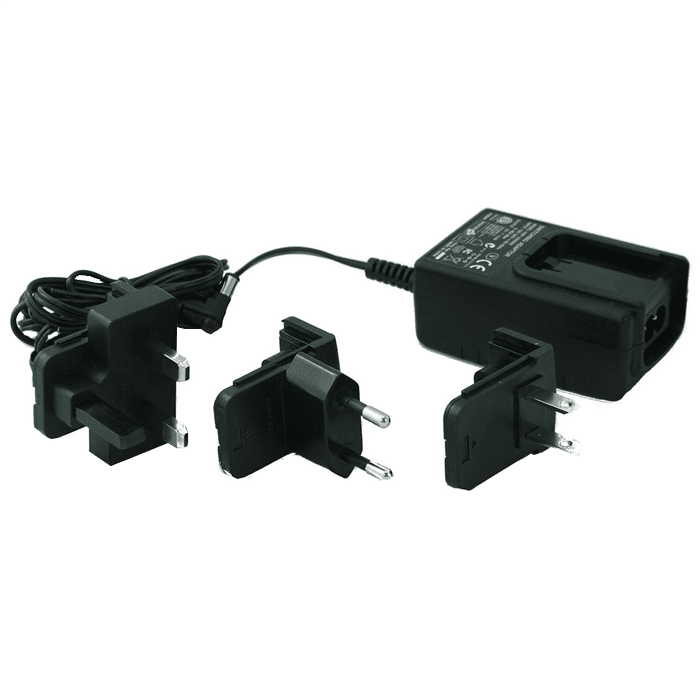 This adapter is for the
Millennium Chess Computer - ChessGenius
and ChessGenius PRO. It comes with both European and North American plugs.
About the computer:
The chess computer for tournament and club players running Chess Genius by Richard Lang and recommended by world champion Anatoly Karpov.
World champion chess program
Playing strength over 2000 ELO (USCF 2200, or Master level)
One of the strongest chess computer games ever with World Champion software
Richard Lang, with no less than 10 world championship titles in Computer Chess is without doubt the most successful chess programmer ever. His legendary Chess Genius program succeeded on August 31, 1994 the historic first win a chess program over a reigning world chess champion at an official tournament: world champion Garry Kasparov was 1.5 at Intel Grand Prix Tournament in London: defeated by 0.5 points.
The MILLENNIUM ChessGenius includes this award-winning Weltmeister program. With its playing strength of more than 2000 ELO (according to international tournament standards) and due to its virtually infinite variable adjustment options it makes the perfect companion for all chess players, whether a beginner, club player or a strong tournament player.
Specifications:
Model: HKP-0500600
INPUT: 100 -240V ~ 50/60 Hz, 0.45A Max
OUTPUT: 5V 0.6A
TIP: - (outside)
TIP: Locating the female jack on the Millennium Genius
Turn the unit over and rotate so that the logo reads correct in the right orientation. Find the second lip / edge below the logo (towards yourself) then look to the right side corner of that lip / edge. You should find the jack in that spot.
IMPORTANT NOTE: This Adapter is only intended for use with the Millenium Genius and the Millennium Genius PRO.  It is not intended for use with the Millennium Exclusive, Millennium Exclusive Lasker Edition or Millennium Performance Chess computers and may damage their electronics.