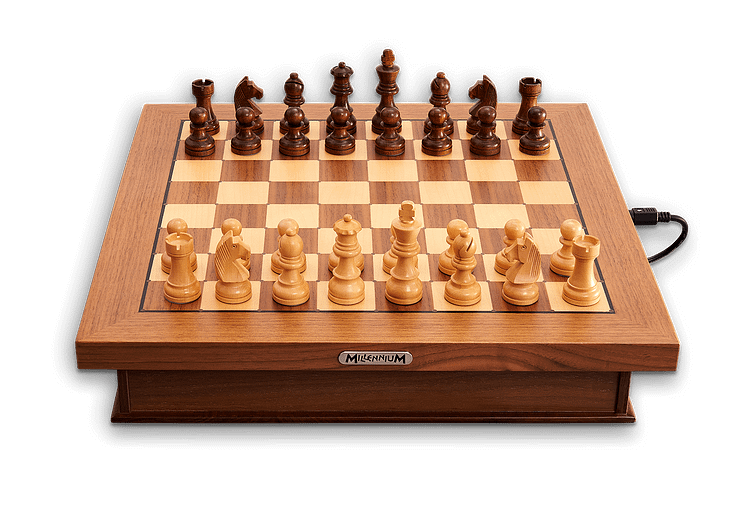 With this luxury-class electronic chess board, play on a beautiful chess board with chess apps or online on Lichess. Accessories and cables are concealed inside.
The Exclusive Luxe Edition is the most luxurious electronic chess board and a real visual highlight at home. The Exclusive Board with fully automatic piece recognition and LED move display stands on a noble wooden pedestal, the Luxe Cabinet. This contains a drawer lined with velvet in which you can perfectly store the included accessories ChessLink and ChessVolt including all cables and the pieces.
Combined with the elegant new Luxe Cabinet, the chessboard is elevated and free of distractions so that you can focus on making good moves.
The Exclusive Board features the worldwide unique piece recognition system, which provides for the most comfortable playing experience. The usual "pressing" on the board is no longer necessary - move or slide the pieces as naturally as on a classic chess board.
The Luxe Edition brings the power of online chess to the luxurious electronic chessboard in front of you. Play others remotely while enjoying the stress-free benefits of a real chess board with Exclusives fully automatic piece recognition and LED move display.
Unique in Luxe Edition

Luxe Cabinet - New design highlights your Exclusive and stores your components beneath for distraction-free play.
ChessLink - Integrated ChessLink module lets you play online on your board via the popular lichess platform, or via the HIARCS app.
ChessVolt - Power your chessboard with the integrated ChessVolt to experience your chess game wherever you want.
With the ChessLink module and free apps, you can play online on Lichess and chess.com. For professional tournaments, you can use the tornelo.com platform. You play directly on the board - against millions of people around the world! Your opponent's moves are displayed with the LEDs on the board. Enjoy real gaming experience and concentration while playing online like never before.
Details

Exclusive Board surface size: 15.75" x 15.75" x .78" (40 x 40 x 2 cm)
Square Size: 1.625'' (4.13 cm)
Wooden board with automatic rapid piece detection sensors

Display of chess moves: 81 single-field LED (each 4 per field)
Power supply and connection with adapters for international sockets.

ChessVolt Lithium external power pack for 10+ hours of play on a charge.
Included in Box
Wooden sensory chessboard
Wooden chessmen
Luxe Cabinet

ChessVolt
ChessLink
Power supply with adapters EU/GB/US (240V / 110V)
Connection cables
Printed Manual
Related Manuals: