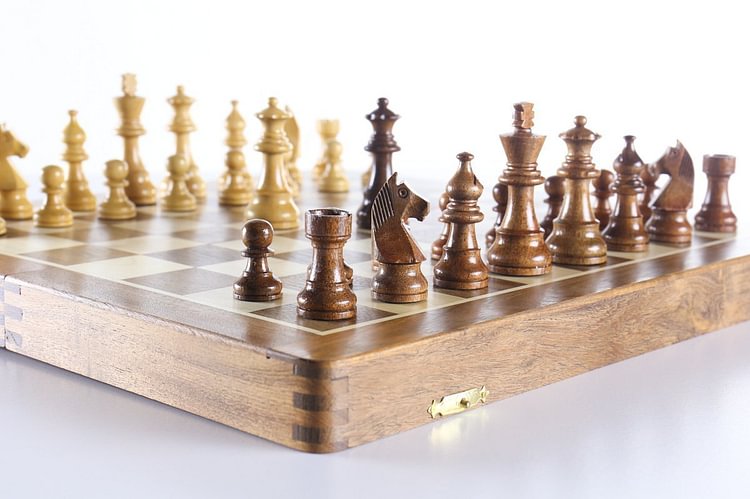 Here's a gem of a set for all ages, suitable for home or travel. Why? We've designed this folding wooden set with magnetic pieces that not only look and feel great, they are steady in unstable conditions!
Add to this, the extra queens, and individual piece storage placements inside the folding board.
We've ditched the traditional green for striking black felt interior and capped it off with a black felt drawstring protective cover. Now that's a gift - to yourself or a loved one! 
From the quality black protective cover to the richly carved, aromatically pleasant wood and high quality materials, this impressive set is bound to offer that 'just right' experience!
Strong magnets provide a stable playing experience even in bumpy conditions on the road or when moved around.  Thoughtfully designed individual internal piece storage in plush foam topped with black velour will protect the pieces from damage.
The board is encased in solid shisham wood frame (dalbergia sissoo) with finger join corner construction provides great stability and longevity for this set.
See KS002 for the same design in a larger 16 inch size
SPECIFICATIONS:
Solid wood frame construction
Dimensions; 14 x 7 x 2 3/8" Folded,  14 x 14 x 1 1/8" Unfolded
Square Size 1.5"
Entire product weight: 3.4 lbs
Pieces are made from Shisham & Boxwood
King Height: 2 3/4 (2.75")
King Base: 1"
King Weight: .7 oz
Piece Set weight: 10.6 oz