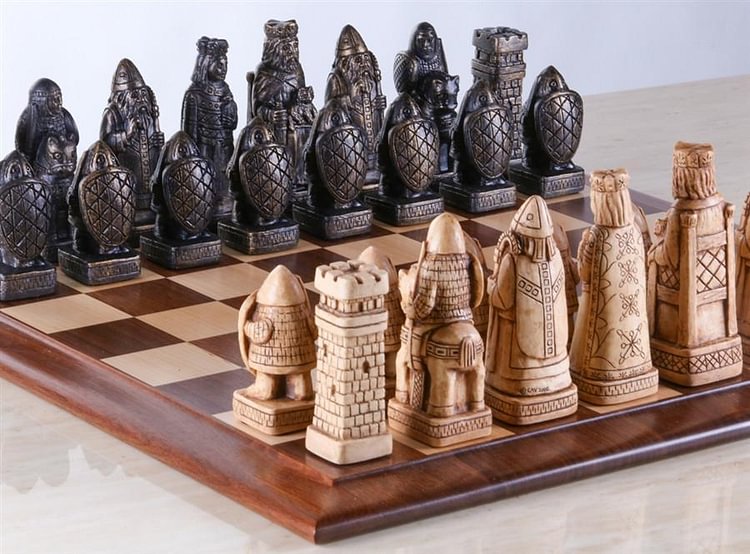 The House of Hauteville Chess Set is an artist's dream come true. Chess House brings you Carolyn Cavanaugh's chess pieces design, produced in limited quantities in the USA.

"The inspiration for this set of chessmen came from a friend who asked me to make a mantle piece based on a pawn she had seen in a book by John Norwich. I read the book,

The Normans in Sicily

, and fell in love with the idea of these brave men. The knights and the pawn are directly based on some 11th century Norman wood chessmen that have been preserved at The Biblioteque de National in France. The other pieces are original imaginings. I gave the king a cat because there is a saying (of later vintage) that "a cat may look upon a king." The queen has a hawk because she is a warrior woman. I've named the king and queen after the famous warrior duo, Robert Guiscard and his wife Sichelgaita. I often refer to the knights as Tancred and Drogo, also names in the Norman Hauteville family."

"I once attended a lecture by Lord Norwich at the Smithsonian. He was not talking about his book on the Normans, but about his mother. Nonetheless I arranged to have someone at Smithsonian give him the six little figures to take home with him. He wrote me a letter of thanks and said he keeps them on the mantle. John Julius Norwich is a brilliant writer and has many wonderful books to his credit."

- Carolyn Cavanaugh; Creator of The House of Hauteville Chessmen
The Pieces:
Each piece was originally modeled in clay, then molded and reproduced in wax. The wax patterns were refined for better detail and final molds were made for reproduction. They are cast in stone resin. These pieces are handcrafted entirely in the US. The pieces are substantial from 3 to 5 inches tall. Designed for the enjoyment of all, the serious player and the collector, we hope everyone will enjoy the artistry and humor of this impressive work.
32 pieces
Made of marble resin.
King size: 5"
Pawn size: 3 1/4"
Base size: 1 7/8"
Bases felted with four green dots
Weight: 9+ pounds. Weight varies slightly from set to set.
The Board: Perfect for chess players and admirers this is one of the finest US made solid wood chess boards handcrafted from locally sourced walnut and maple hardwoods.

The family in Pennsylvania has a rich heritage of woodworking and farming. Originally from Switzerland, the skills were passed down through five generations. This remarkable lost art of woodworking is continually refined, blending timeless methods with the latest knowledge on living wood behavior.

Styling - Players will enjoy the subtle grooves and beveled edges on this chess board. It's a great gift to pair with almost any suitably sized wooden pieces.

Size - 21" square chess board with 2 1/4" squares.

More about the board. The creator of this chessboard has studied wood movement extensively. Wood is "living" after it is cut down, not a rigid block. Due to the circular ringed nature of a tree, the direction of cuts is very important to the natural expansion and contraction of the wood as humidity levels change from one environment to another. This unique expansion of both woods used in this work of art, require great attention in every phase.

Care. It can be helpful to store or display the chessboard vertically so that equal temperature and humidity is applied to both upper and lower sides of the wood. A light lacquer finish is applied for furniture style smoothness, and a soft, dry cloth should be used to wipe the surface dust free.