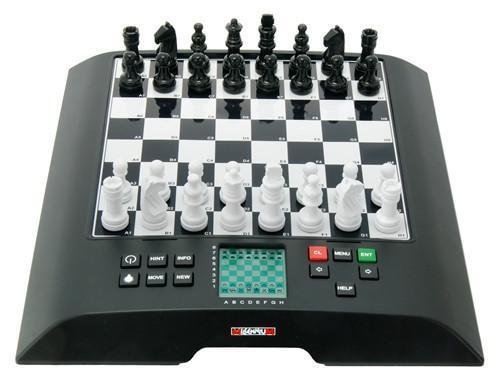 Play against the chess computer at your level on this convenient electronic game for solo chess play. The ChessGenius chess computer is ideal for both beginning and expert chess players.
Improve your chess with the chess computer built on the famous chess engine ChessGenius by Richard Lang.
Take it with you: convenient, portable, 11" size makes the chess computer easy to take along on travels with included long-lasting AA Batteries and power saving mode.
To make moves, press lightly on the squares with Millennium's unique HighSensitive technology, while lighted LCD screen shows chess moves, current position, and menus.
Play levels suitable for all levels from first time players to expert tournament players. Top playing strength over 2000 ELO (USCF 2200, or Master level). Take back moves, or see suggestion for better moves.
Keep your mind active with endless chess enjoyment by adding optional AC power adapter for at home play.
Game Levels
Virtually unlimited number of difficulty levels
The average training time is adjustable
Total time per game is adjustable
Tournament Levels for strong players
Lower levels for beginners
Designed for chess professionals
20,000 opening positions
Versatile Analysis Mode
Position evaluation and main line
Input any chess positions
For Beginners
Chess Coach will warn of bad moves, offers a re-do and makes suggestions for optimal moves
Displays all legal moves
Unlimited number of moves back and replay
Features
Easy system setup
LCD display with backlight option

7 3/4" playing surface (~ 1" SQUARES)
Multilingual user interface
Play modes - player vs. computer, player vs. player, etc
Energy saving mode when using batteries
Specifications

Processor - ARM Cortex M4/48 MHz
Magnetic, pressure sensor board
Text-based, 7 language menu
Languages - DE / GB / FR / NL / ES / IT / RU
Software - Chess Genius
Power: 3 AA Batteries, included
Optional Power Adapter Sold Separately
Dimensions - 11.8 x 10.8 x 1.2"
Chessboard dimensions: 7.8 x 7.8" (20 x 20 cm )
Display Dimensions:  1 1/2 x 1 3/4" (3.8 x 4.5 cm )
King height: 1 7/8"
King base: 5/8"
Helpful things to note about this model:
The unit's factory default language is German. When the unit is reset it will default to German. English is restored after pressing reset button, then the Right Arrow and the Green ENT button.
Most, but Not ALL pieces will fit in the storage compartment below the unit. It's recommended to use a small drawstring bag to store pieces
Contrast adjustment settings do not appear to function as expected and in most cases do nothing at all for the display. In the units that we tested, all displays already were in the most optimal contrast setting.
Do not expect to play vertical chess using the pieces; the magnets are designed to provide just enough help to keep the pieces from shifting or falling when moving the board.