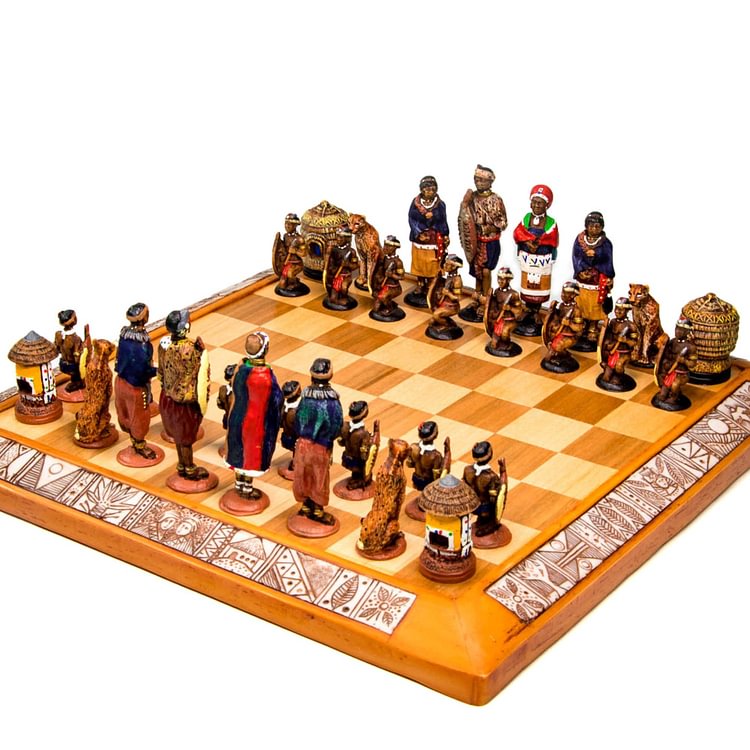 This African Themed Chess set with Authentic Zulu/Ndebele designs is shipped in a durable double walled box with dye cut foam insert and is made in South Africa by local artists.
This beautiful African People's Themed chess set includes both the African Chess Board as well as African Tribal Chess Pieces.
Chess Pieces:
The chess pieces are molded from high-quality Polystone (resin & stone) that offers a smooth porcelain-like finish and then meticulously hand-painted by talented African artists who only use the best oil paints to deliver incredibly detailed designs.
The king - Ndebele chief/Zulu chief
The queen - Ndebele matron/Zulu matron
The knight - cheetah/lioness
The bishop - Ndebele witchdoctor/Zulu Sangoma
The rook/castle - Ndebele hut/Zulu hut
The pawn – Ndebele warrior/Zulu warrior
Chess Board:
The solid, durable wooden chess board is finished off with a beautiful hand painted Polystone frame
The small chess set's design is virtually the same as the large set, however the board as well as the chess pieces at 70% of the large chess set in size