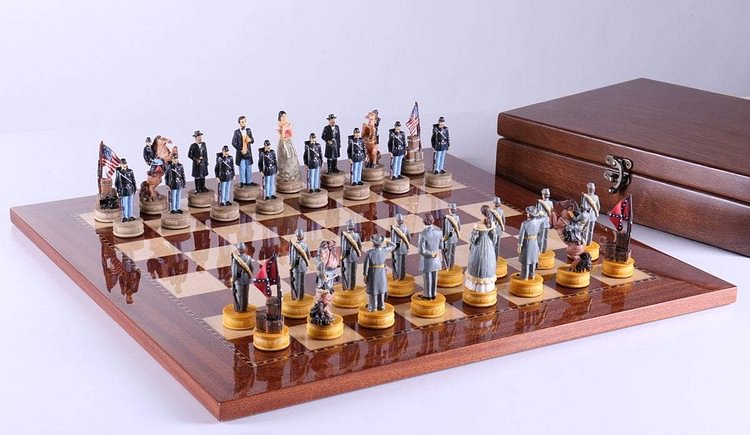 These intricately hand-painted Civil War chess pieces handsomely depict key people and characters in the Union and Confederate conflict of the late 19th century, ideal for those who enjoy chess and American history.
The medium weight feel is heavier to the touch than plastic, resulting in a more stable playing experience. This is achieved with poly-stone resin molding for a balance of durability and overall stability.
The board is made in Spain with Mahogany and Maple wood and accented by a subtle tessellated trim inlay all beneath a high gloss finish, this board is great for display and play.
Keep it all together with the Old World style wooden treasure box, skillfully crafted in the USA, combining function with decorative purpose, and will be cherished for its fine craftsmanship for generations.
Pieces Specifications:
King height: 3 1/4"
King base: 1"
King weight: .8 oz
Set weight: 21.8 oz
Lead-free paint
Kings: Abe Lincoln / Jefferson Davis
Queens: Mary Todd Lincoln / Verina Howell
Board Specifications:
Board Dimensions: 17 3/4" x 17 3/4" x 1/2"
Square size: 1 3/4"
Felt Pad on bottom corners
Storage Specifications
Old-World style wooden box with latch closure
Crafted from Maple
Outside of box measurements:

11 5/8" x 9 1/4" x 2 7/8"

Inside of box measurements:

Base - 10 7/8" x 8 1/2" x 1 5/8"
Lid - 10 7/8" x 8 1/2" x 3/4"

Inside Bottom is lined with felt. Bottom of box is felted to prevent scratches to surfaces.