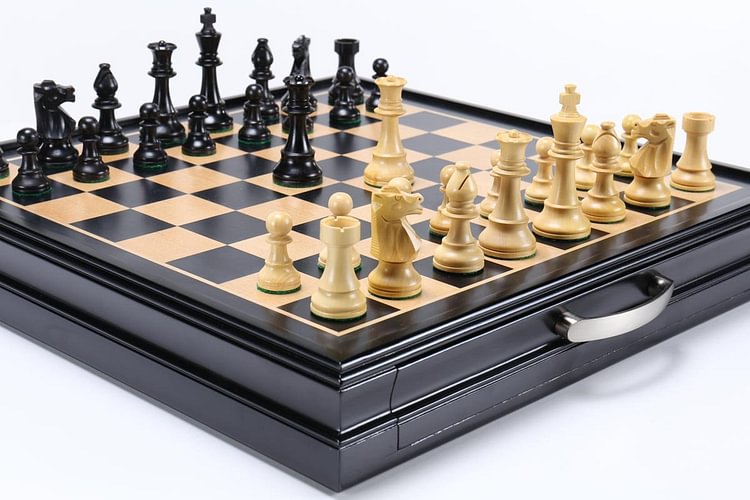 This straightforward, yet stylish storage chess set with Club Pieces is exclusive to Chess House and is a perfect combo to start out playing chess in style.  The wooden chess set is complete with chessmen (+extra queens for pawn promotions), checkers, and felted storage drawer with brushed nickel pull handle. 

At almost 19", this storage chess set offers a full size board (2" square) any club and tournament player would appreciate and makes an impressive display. To some, the 19" might be larger than expected, so we encourage you to first consider the space required. 
The Club series chessmen exemplify the perfect combination of form and functionality. This set has been designed to withstand rigorous practical play while maintaining elegance. The design, quality, and craftsmanship are superior to most chessmen in its price range. The pieces are felted for smooth play and to protect a wooden chessboard.

Features and Specs
Board size 18.5"
Square size 2"
Sturdy, solid wood frame and real wooden veneer surface
3 3/4" King
1 1/2" Base
2.4 oz King
1 3/4" Pawn height
36.5 oz set weight
32 Pieces + 2 Extra queens for that occasional pawn promotion
Green felt bases
Boxwood / Ebonized* Boxwood
Made in India