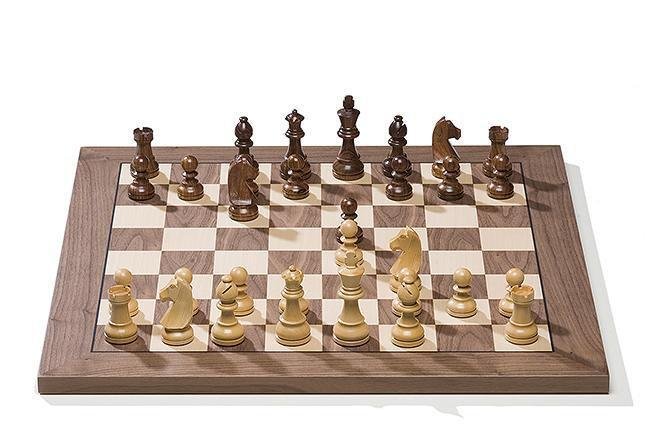 The DGT Tournament E-board (USB-C version), like the DGT Smart Board, has the latest DGT hardware upgrades, which means accurate, faster board scans and improved energy efficiency, all wrapped up in DGT's classic wood veneer E-board.  
Made in Holland and Spain, this elegant chessboard brings advanced technology to your home to maximize your PC chess playing experience.  By connecting to a Windows PC (or DGT Pi, which is sold separately), you can relieve your eyes from much of the constant strain of staring at the computer screen to play chess.  Plus, many players have shared that playing with a physical board and pieces has helped them in actual competitions and play versus just studying and playing using a computer.    
These E-boards can be used in many different ways for home, club, or events and are ideal for tournament presentation.
Online Play - Play with opponents from around the world using the DGT as your interface for move input on Playchess.com. Moves can be shown on a DGT3000 chess clock that connects to the Board.
Record Games - When the board is powered, the games you play are stored automatically and can be retrieved later for publication (PGN) or analysis (Ie. to a database in Fritz (ChessBase).
Computer Play and Training - the DGT Tournament E-board works with the latest chess playing software programs for Windows Based

 computers 

(not Mac unless using emulation software for Windows). Allows real time game analysis. You can also turn your board into a more portable (stand-alone) setup by adding a DGT Pi.
Live Internet Broadcasting - with DGT's free

 

LiveChess Software

 (and 

free Cloud Service) you can broadcast your games, or share a tournament live via your website.
The combo is complete with board, light duty storage bag (board only), USB-C cable, board-to-clock cable, DVD with drivers, DGT LiveChess software, ChessBase Fritz CD chess play software, and 100 days of PlayChess.com Premium.

Compatible with all current DGT e-board or smartboard pieces.  Modern, reliable sensor technology recognizes each piece accurately and fast. Each piece is identified by color and type. This gives you extra reliability in fast blitz games and makes setting up chess positions easy.
IMPORTANT:  DOES NOT WORK WITH OSX, CHROME, OR LINUX OPERATING SYSTEMS.  COMPUTER IS NOT INCLUDED WITH THIS PRODUCT
Specs:
Beautifully-inlaid wood board with official FIDE Tournament size squares (2.25 in / 5.5 cm)
Internal move memory stores up to 500 total combined moves
Two Year Warranty
Board size: 21 1/4"
Board thickness: 3/4"
Board weight: 133.3 oz
Manual and Tech Specs